This whole global health pandemic has increased my desire to become more self-sufficient and chemical-free. There is such a big emphasis right now on hygiene and cleanliness, it really made me think about how to stay committed to taking care of the planet as well as my health and act responsibly in the face of the pandemic.
I've been experimenting lately with making my own household cleaning products. It is easy to become dissuaded with that at first as it looks like a ton of effort and extra ingredients that you may not have lying around, but in fact it could not be simpler!
Natural household cleaning products are as effective as harsh chemicals and cost less, as well as improving indoor air quality and if you have children you can rest assured, they are much safer and easier to be used.
I used to buy green cleaning products because the harsh chemical toxic gave me a headache, but some green products are quite expensive. I have found that making my own is not only better for my health and my home but also for my wallet.
I have experimented with different recipes and gone through a bit of trial and error, but now I have some excellent natural cleaning mixes that I would like to share with you!
Here is a list of key ingredients. Some of these you probably already have stocked in your pantry…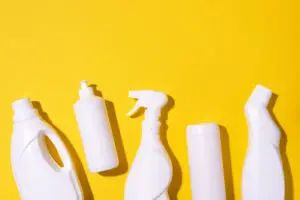 White vinegar
Lemons
Baking soda
Table salt
Rubbing alcohol
Liquid castile soap
Maize starch
Borax
Essential Oils
Microfiber cloths
Glass spray bottles (you can make your own with an old glass vinegar bottle and a spray top)
1. All purpose cleaner:
¼ cup white vinegar
1 tbsp baking soda
1 liter of hot water
½ lemon or lemon peel
A pinch of rosemary or a few drops of your favorite essential oil
Put all the ingredients in a spray bottle (cup if possible) and shake.
This is an incredible cleaner for freshening, naturally disinfecting and scrubbing surfaces in the kitchen, bathroom, hard water stains, garbage cans, and wall smudges.
2. Tile Grout Cleaner
½ cup baking soda
2 tbsp washing soda
2 tbsp Borax
3 tbsp liquid castile soap (or dish soap)
White vinegar
The trick with this is to wipe your tiles with vinegar and a sponge first, then start working with this deep scrub. You can let this mixture sit for 10 minutes first and then scrub with a brush and rinse with cool water.
For easier cleaning of tiles that don't have too much grout, just use vinegar, lemon and baking soda in a scrub.
3. Glass cleaner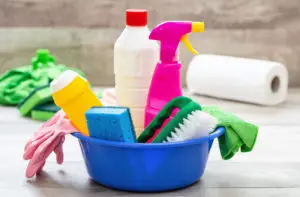 2 glasses of water
2 tablespoons white vinegar
1tbsp cornstarch
Essential oil of choice (lemon or tea tree are nice)
Mix the ingredients in a glass spray bottle and with a microfiber cloth wipe the windows clean.
You can also use old pillowcases, t-shirts or newspapers to wipe the glass clean.
4. Toilet cleaner
1 cup white vinegar
¾ cup baking soda
Drops of essential oils (tea tree, lemon and lavender are nice scents)
You can mix these in a bowl and just pour it into the toilet bowl when you are ready to clean. This method cannot really be stored because of the fizzing action. It's more of a make-it-when-needed recipe!
5. Washing Liquid/Dish Soap
3 tbsp liquid castile soap
2 cups of hot water
2 tsp glycerin
2 tbsp. white vinegar
10 drops lavender essential oil (or scent of your choice)
Mix all the ingredients together and give it a good stir to mix. You will find that this liquid is thinner than your regular dish liquid but does an excellent cleaning job on grease and tough stains. Lavender has a nice smell and has antibacterial qualities yet it won't leave your dishes or food items smelling great.
6. Brass Cleaner
White vinegar or lemon juice and salt
All you have to do is soak a sponge with vinegar or lemon and sprinkle some salt on the sponge. Lightly clean the copper surface and then rinse and dry. This works wonders on cabinet pulls and bedroom or bathroom appointments.
7. Natural air freshener
This is one of my favorite things to do and it keeps my place smelling amazing. Everyone who walks into my house always comments on how good it smells!
1 sliced ​​lemon, some sprigs of fresh rosemary (must be fresh) and a drop of vanilla essence.
1 sliced ​​orange, a sprinkle of cinnamon, nutmeg, and cloves
A piece of chopped fresh ginger and a few slices of orange
Fresh thyme, sprigs of rosemary and 1 slice of lemon
In a medium saucepan, bring to a boil a quart of water with any of the following natural ingredient combos. Keep the water simmering, not evaporating, and you'll soon have your space smelling divine!
So there are my best natural cleansing recipes, try them and let me know how it goes in the comments! If you can get hold of some pretty glass bottles, they also make a thoughtful, homemade gift for friends and family who are environmentally conscious.